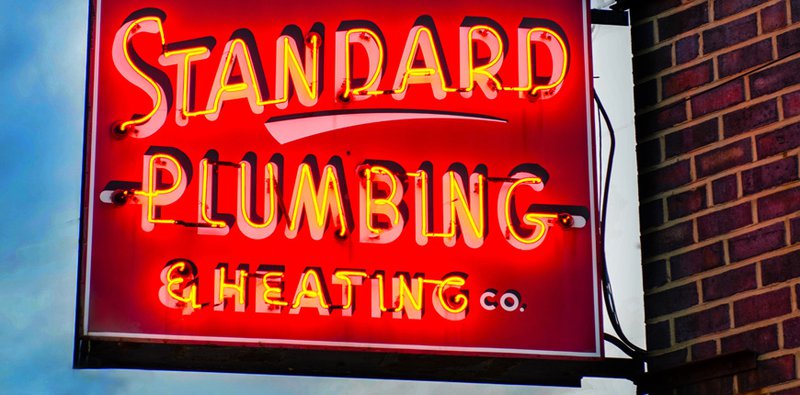 About Standard Plumbing and Heating 
Standard Plumbing and Heating is the industry's leader in service and design in HVAC and Control, HVAC Sheet Metal, Custom HVAC and Plumbing Systems and Full-Service Plumbing. 
The experts at Standard Plumbing and Heating service all mechanical operations, HVAC systems, back flow, boilers, chillers, air conditioning and heating as well as industrial processes for commercial and industrial facilities.
Our reliable technicians insure prompt response from each of our industrial, commercial and plumbing service divisions. Several full-time licensed plumbers who are dedicated to commercial, back flow testing, fire line repair and beyond are available day or night – we offer 24-hour emergency service. We also install computerized controls that allow us to offer remote monitoring, such as Direct Digital Control (DDC) for HVAC systems.
Because regular service of HVAC and plumbing equipment extends operational life, preventative maintenance programs are available. 
Our Campus
Standard Plumbing and Heating is the area's trusted authority in the plumbing and piping industry. Founded in Canton, Ohio in 1912, Standard Plumbing and Heating is a third-generation, family-owned and operated company that has always focused on providing quality service for customers.
The business began as a small plumbing company located in a storeroom and has grown to a multi-faceted campus, which is home to two warehouses, headquarters for both Standard companies (Standard Plumbing and Heating and Sheet Metal Crafters, Inc.) as well as a service department.
Standard Plumbing and Heating installed the first large scale air conditioning project at Canton City Hall more than 60 years ago. This marked the beginning of Standard's involvement in the rapidly growing air conditioning industry. The fact that it remains today is a testament to the quality work we provide.
In addition to the Canton campus, Standard also has an office in Mansfield.
Over the past century, Standard has worked extensively throughout Central Ohio, including nearly every Stark County landmark and institution.
Our Mission
We are a mechanical contractor that leads the industry in craftsmanship, technology and safety. Our company culture values integrity, commitment, responsibility and education. Our unmatched service, efficiency and win-win approach facilitates long-term relationships with our customers and company team members. We are dedicated to being the best performing contractor in our region. 
Our Philosophy
We believe our ability to stabilize maintenance costs, maintain comfort conditions, extend equipment life and protect the capital investments of our customers is the main reason we are so successful. We will work to operate your premises at maximum efficiency.
Building maintenance is a job for experienced management, skilled technicians and specialized equipment. When these three components are combined, you have complete assurance you're doing all the right things, the right way, the first time and the results are significant. 
For more information, please call 330.453.9191 or email info@standardpandh.com.
Our History
In 1912 Herman C. Grabowsky started a small plumbing company in a storeroom under the lobby of the Barnett Hotel in Canton, Ohio. The business quickly expanded, and in 1916 Herman moved headquarters to the former Reichart building in downtown Canton, located at 435 Walnut Avenue S.E., where the Standard Plumbing and Heating Company, Inc. remains today. The multi-faceted campus is home to the company headquarters as well as affiliate, Sheet Metal Crafters, Inc., two warehouses and the service department. 
It wasn't long before Herman's son Robert would join the business. His enthusiasm combined with innovative and emerging air conditioning technology created a new avenue for the company. The father and son duo led a rapid expansion in the mid-1950s and soon they were granted the largest air conditioning project in Stark County – Canton City Hall. 
In 1971 Robert was appointed president of Standard Plumbing and Heating, Inc.  With his guiding principal being quality, he led the development of Sheet Metal Crafters, Inc., in 1977 to provide exclusive sheet metal installation for all of Standard's projects. 
As the company continued to grow, a third-generation Grabowsky entered the family business. Robert's son David joined the company full-time in 1979. After several years learning fundamental business operations, David was ultimately appointed to lead the company as president in 1997, with his father still playing an active role in operations. A hands-on leader, David is often found working with customers as estimator/project manager in addition to his role as company principal.
In 2010, Sheet Metal Crafters, Inc. moved into their new manufacturing facility.
Standard Plumbing and Heating, Inc. celebrated its 100th anniversary in 2012.
Today the Standard Plumbing and Heating, Inc. campus is located in Canton, Ohio on Walnut Ave. The main office is located at 435 Walnut Ave., S.E., and just a few blocks away the service department is located at 220 7th St., S.E. In addition, two warehouses provide 24,000 sq. ft. for pipe fabrication storage.
Standard Plumbing and Heating, Inc.'s branch office is located in Mansfield, Ohio.  
Standard Plumbing and Heating, Inc. is a full-service industrial, institutional and commercial mechanical contractor. Services include air conditioning, heating, process piping, plumbing, sheet metal fabrication, design-build, professional engineering, boilers, chillers, HVAC controls and 24-hour emergency service. For more information, call 330.453.9191.