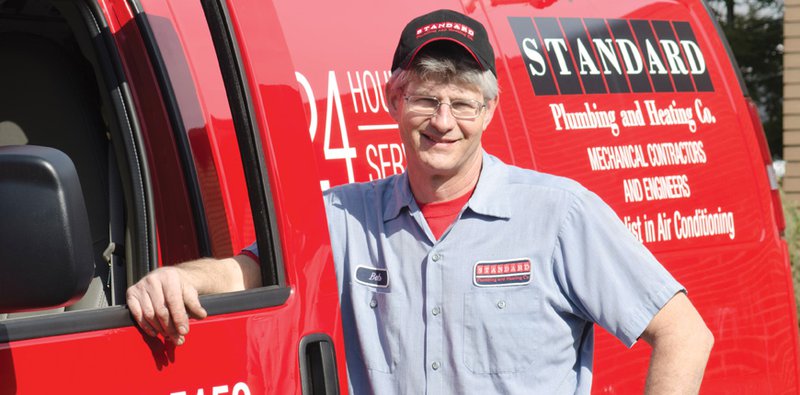 Standard Plumbing and Heating professionals lead the industry in craftsmanship, technology and safety. We provide service, installation, repair, maintenance and sales of plumbing and heating equipment. Because of our extensive in-house resources, we are able to offer more accurate pricing and control costs. And, as a single-source provider, we offer quicker turnaround time on projects. 

We believe our ability to stabilize maintenance costs, maintain comfort conditions, extend equipment life and protect the capital investments of our customers is the foundation of success. Our intention is to reduce or eliminate equipment downtime.
Building maintenance is a job for experienced management, skilled technicians and specialized equipment. When these three components are combined, you have complete assurance you're doing all the right things, the right way, the first time—and the results are significant. 
Standard Plumbing and Heating offers the largest service department in the area. The Standard red van is the company's most recognizable symbol in the area—with more than 50 Standard service vans available throughout northeast Ohio. 
Our engineers and technicians are experts in the large industrial and commercial equipment industry.  Several full-time licensed plumbers who are dedicated to commercial, back flow testing, fire line repair and beyond are available day or night – we offer 24-hour emergency service. Our services also include installation of computerized controls that allow remote monitoring, such as Direct Digital Control (DDC) for HVAC systems and preventative maintenance programs to help extend operational life of plumbing equipment. 
Here's a list of our service, plumbing and HVAC capabilities: 
• Chillers
• Boilers
• Heat Exchangers
• Cooling Towers
• Rooftop HVAC Units
• Heat Recovery
• Air Rotation Units
• Process Piping
• Medical-Gas Piping
• Backflow Testing and Installation (in accordance with annual State of Ohio requirements)
• Water Lines (Fire Hydrants, School Cafeterias)
• Food Processing Lines
• Waste Lines
• Gas Lines
• Drain Clearing and Auguring
For more information, please call 330.453.9191 or email info@standardpandh.com.